The First Humanist Wedding in Poland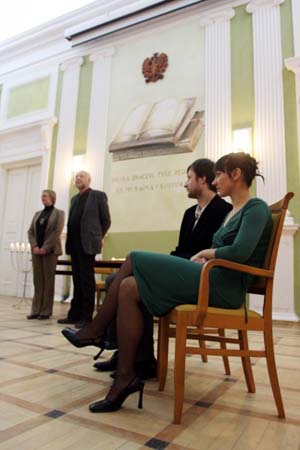 On Saturday, the 9th of December, 2007, at Krakowskie Przedmiescie 66 in Warsaw the first humanist wedding in Poland took place. The first couple were psychologists from Gdansk: Monika Szmidt and Milosz Kuligowski. This ceremony was organized by the Polish Rationalists Association and was conducted by Krzysztof Tanewski (PRA) and Jane Bechtel (Humanist Society of Scotland).
This kind of wedding is used by humanist communities in many countries all over the world. In the USA, Australia, New Zealand, Canada, Norway and Scotland it is recognized in civil law. Humanist weddings are very different from religious ones. All attention is focused on human and interpersonal and social relations. Also, there are many more aesthetic events, for instance: more music, poetry and stories about a bride couple.
Monika and Milosz's wedding was introduced by Pachelbel's Canon played on the violin by Zuza Kuczbajska from the "Wedding Workshop". The ceremony started at dusk with the lighting of more than one hundred candles, with smell of vanilla. In the centre there was a beautiful orchids arrangement.
The ceremony took place in an extraordinary building – the Museum of Industry and Agriculture, with which Maria Sklodowska-Curie was associated in her youth. The main hall contains the quotation "Poland will mean as much as its science and culture."
David Pollock, the chairman of The European Humanist Federation, sent a letter of congratulations to the couple.
All the guests were welcomed by Krzysztof Tanewski, who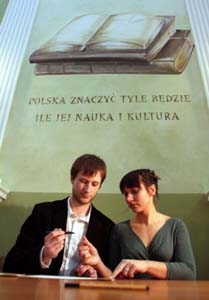 said that the presence of Jane Bechtel emphasized the equal rights of women and men, not only on that day but in society as well. This event doesn't indicate the creation of a new secular tradition, but rather a natural globalization process.
Jane Bechtel made a speech about love, family, marriage and humanist values. Then Marek Pawłowski, a member of PRA, told the gathered guests about Monika and Miłosz, emphasizing their interests and social commitment.
The couple had chosen passages of prose which showed their beliefs and their system of values which they asked their friends to read during the ceremony. Monika chose Vonnegut's "bokonon humanism" (from "Cat's Cradle") and Milosz chose a few excerpts from "Fabula Rasa" by Edward Stachura, Polish poet, philosopher and prose writer.
The central point of this ceremony was the vows and the wedding rings, which symbolized the marriage contract. Both the bride and groom signed a wedding certificate and made their marriage vows, which were very similar.
Monika said, "Dear Miłosz, I promise that you may take care of me and live with me through moments of happiness and sadness, moments of defeat and success. I also promise that you may hear about my everyday impressions, make me coffee, bake me a cake and carry my heavy bags. You may also fall asleep and wake up next to me. You may cuddle and kiss me. You may be angry with me when it's necessary and forgive me, if it is possible. During my absence you can miss me. I promise that you can watch films with me ... dance and sing with me ... laugh and cry with me and eat my whole candies, and I swear that you can share everything with me: my thoughts, genetic material ....everything that is needed."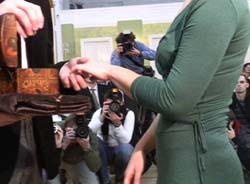 At the end of the ceremony, the couple left the hall to the accompaniment of Vivaldi's music. The visitors book was waiting for the guests. After the ceremony, Mariusz Agnosiewicz, the chairman of the Polish Rationalist Association, thanked everyone for helping to organize this first humanist wedding and said about idea of humanist ceremonies.
The first humanist wedding in Poland was a great media event with many press articles and television programms (most important Polish media gave information about the first humanist wedding).
Soon after this event, another couples said that they were interested in having a humanist wedding.
First humanistic wedding of same-sex couple in Poland
The first humanistic wedding of same-sex couple (two women living in a long-term relationship) took place on the 2nd of August 2008 in Warsaw, under the auspices of Polish Rationalist Association and in presence of family, friends and acquaintances. The wedding proclaims this relationship permanent and a family. Organizers hope, that this landmark will bring our country nearer to the equality of rights for sexual minorities. First homosexual marriage was created by two believing humanists: there were religious and non-religious ceremonies the same day, together fully expressing girls' personalities. Church wedding was conducted by presbyter of Reformed Catholic Church from the community of Poznań. This denomination not only conducts weddings of same-sex couples, but also ordains women. The partners unite perfectly liberal and open religiousness and affirmation of human being and freedom, what makes them religious humanists. On behalf of Polish Rationalist Association the ceremony was conducted by Krzysztof Tanewski. There were wedding rings, oaths, marriage certificate, wedding cake, champagne and a party.
One of the partners, Katarzyna Formela, said in her wedding speech: "From the beginning of our relationship we were aiming at making it formal, at manifesting with our marriage that we are a family. We wanted to emphasize this way the breakthrough, which took place in our life when we decided to be together. It is very significant change in our life and we wish to communicate it to others and to be perceived in the ways of family, not as separate persons, like it was earlier. Humanistic wedding, preceded by church wedding, gave us such an opportunity. It is our will to be treated as any other married couple(...)
In our case - as a same-sex couple (the civil marriage is unavailable for us in Poland) - our humanistic wedding won't have any consequence in law (which we both really wish to), while the religious one expresses important but not the only one part of us. That's why in this case the connection of humanistic and church wedding illustrates the union of mind and faith - the connection so very significant in our life."
Humanistic wedding - although still not legally recognized in Poland - as it is in other countries - is an alternative of the wedding in church or registry office. It gives the opportunity to create whole ceremony from beginning to end to the couple being wed, and this way it presents the nature of the specific relationship. With humanistic ceremony we have the possibility to express our world view, ideas and thoughts important to us, which isn't possible with wedding neither in church nor the more in civil registry.
More about Polish humanist ceremonies: